LBMC W Squared Announces Executive Leadership Team, Names New CEO
Transition Aligns with Growth of LBMC's Outsourced Accounting Affiliate Company and Increasing Client Demand
Nashville, TN – LBMC W Squared, LLC, a national leader in the outsourced accounting profession and an affiliate of top business consulting and advisory firm LBMC, is pleased to announce its new leadership team with Chris Morgan as CEO, Michael Smith as Senior Vice President, Accounting Systems and Implementations, and Mandy Kennedy as Vice President, Operations. LBMC W Squared founder Tammy Wolcott will continue to serve in an advisory role for the company, as well as continuing in the CEO role for LBMC Procurement Solutions.
Chris Morgan joined W Squared in 2006 and has served in numerous roles during his career, including Client CFO, Controller, Implementation Specialist, and Accountant, contributing to the company's growth and success. In 2017, Morgan played a key role in the merger with LBMC and ensured a streamlined approach across the combined companies' book of business. Prior to stepping into the CEO role, Morgan served as Chief Operating Officer where he had full responsibility for day-to-day operations, client relationships, and team member success.
"I am honored to lead our outstanding team of accounting experts," said Morgan. "As one of W Squared's first team members, I've had the privilege to see the company grow and thrive under the leadership of founder Tammy Wolcott for more than 16 years. I look forward to building on the strong foundation as we continue to drive our company forward by creating new and exciting partnerships, expanding services to customers, as well as continuing to evolve our services to meet the changing needs of our clients as they grow."
Michael Smith joined W Squared in 2006 and currently leads the implementation team where he oversees a streamlined and systematic approach to onboarding new clients. He is an expert in understanding complex business structures and develops accounting and financial reporting processes to meet clients' needs. During his tenure, Michael has been responsible for implementing more than 500+ clients across various industries and sizes.
In 2017, when W Squared became a part of LBMC, Smith was an integral part of the management team that supported the merger and integration of business practices.
Mandy Kennedy joined W Squared in 2013 and currently oversees the overall operations of the company. She is responsible for change management to implement processes and workflows to gain efficiencies across the organization to achieve the company's strategic goals. She previously served as Controller, where she oversaw the daily financial operation and month-end close process for multiple clients, including preparing monthly financial statements and MD&A reports, performing variance analysis, liaising with external audit and tax firms, and providing financial guidance.
"Congratulations to Chris, Michael and Mandy on their new leadership roles," said David Morgan, Founder, LBMC, and Chairman, LBMC Financial Services, LLC. "As clients look to optimize time and save money, there's increasing demand for the services provided by LBMC W Squared. As the company continues to evolve and we look at the needs of our clients, this is the perfect time to put in place enhancements in our leadership team led by Chris Morgan to guide LBMC W Squared forward for many years to come."
In addition to announcing the leadership team, LBMC W Squared has added Lauren Farley as Director of Growth. In her role, Farley identifies and drives new client relationships, expands strategic partnerships and serves as a liaison between clients and internal teams.
The leadership announcement follows the partnership of LBMC W Squared with financial operations platform Maxio as one of the first outsourced accounting firms to join the Maxio Partner Channel Program.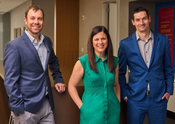 About LBMC W Squared, LLC
For almost 20 years, LBMC W Squared has been a leader in the outsourced accounting profession space, partnering with companies across multiple industries including SaaS, healthcare, professional services, and many more, providing accounting expertise, best practices, and accounting software solutions to clients.
About LBMC
LBMC is one of the Southeast's largest accounting and business consulting firms and a Top 35 firm in the nation. Today, we are an industry leader in financial, human resources, technology, risk/information security and wealth advisory services for businesses and individuals. For more information, visit our website.